The buying process and our first attempt at blueprinting.
This is the first post in a series where I try to chronicle the construction of a single family home on some vacant land.
Let's set the scene with some background to bring things up to speed.
Buying Land
My wife and I purchased some land a while back in a coveted location. It's near a city park with trails for running and biking. There's a small-town commercial center nearby with small shops and useful services like a hair stylist and a few bars. The area is calm, country, and perfect for someone (maybe us) to settle down in someday.
We bought the land back in late 2017 working through Redfin. The purchase went alright. The property was a subdivision of 3 others that were carved off of an old-timey 1880s farmhouse. The seller was an empty-nest contractor and his wife enjoying their retirement, and wanted to fix up the old house. The property came with an additional acre or so of land that could be broken off and sold to form a small cul-de-sac; the last houses before city land and the park. The plot had energy, water/sewer, and telecom in all the right places, and even had a pre-approved build plot with the county.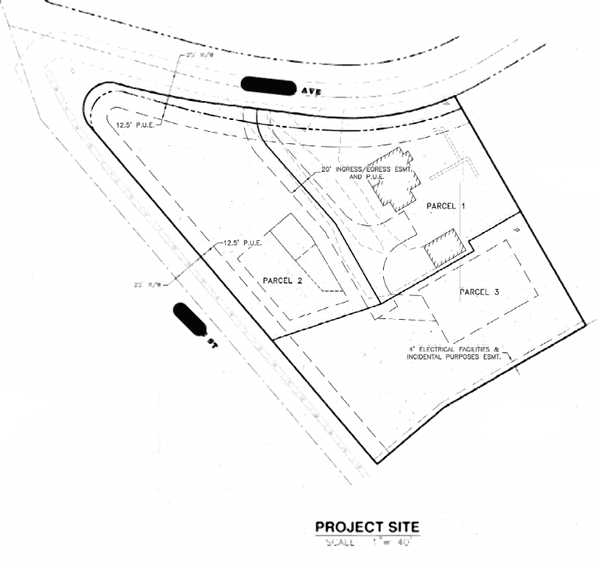 Sweet digs.
We bought the plot for ~$265,000 for a half-acre, and the seller turned out to be really chill. We grabbed pizza and beer with them a couple times to talk about the neighborhood, ourselves, and our plans.
Note Keep careful notes of contact info, filings with the city/county, etc. This is good advice for any home purchase, but that goes triple for land purchases with the intent to build.
Part of the purchase agreement was for an easement road owned and maintained by the seller. He could've gotten away with some pretty weak game; a gravel road wide enough to get to and from the plot, but he pulled through with a 20 foot paved fire road. The fence along the side was tasteful and powered with little down lights to make for a cozy drive up.
Problem One of the first things that came up with the property was the street address naming conventions. We were originally slated as #8050 but that was the seller's address. This caused confusion with everything from water meters to the post office. Make sure you get the street address right from the beginning and watch out for confusion with other plots.
One thing we talked a lot about was the look and feel of what we wanted to build. The area is relatively rural so a concrete and glass modern home was off the table. Now I'm a stickler for longevity and want metal roofing, so a farmhouse was going to be the only other style we could do. It had to work with the landscape.
Which is what I predict to be our first major hurdle. We're looking to build a single floor residence with ~3,000 sqft, which I think is going to be hard with this grade. The pool is at the highest part of the property while the master bedroom is at the very lowest with nearly 30 feet of elevation difference between them.
I'll call out three things in the scan above. The first is the topographic lines that run through the property that show how much needs to be cut away or filled in order to support a driveway at the end of the proposed easement road. That's a lot of dirt, and every foot higher we need to go to meet the road is hundreds of cubic yards of soil to fill and support with retaining walls. Luckily there's some soil on the hill that needs to be cut away so hopefully we don't need to truck in too much.
And we're digging a pool, so there's that.
The second is the pre-approved plot, which isn't as big as it looks. About 80'x40', which is some serious square footage if you're building a square home, but we aren't. And it doesn't make maximal use of the land and its views (no one lives "below" this plot).
The third is the trees, marked as big circles on the plan. Those trees, it turns out, pretty much cannot be removed and we have to make special proposals to the county in order to get rid of even a few. For example, there's at least a few that preclude paving a driveway at the end of the easement road. Those big circles are called a drip-line and you cannot build under them at all, so at least two of these have to go.
First planning round
The first planning round was with someone who could draw up plans for the home. After some searching, we found someone we liked and signed on with them to the tune of about $10,000. His prior work was good and his price was quite good compared to the cost of the project.
We got an initial first draft that included a lot of what we care about:
A pool and guest house,
A two car garage for us and one aux accessible to the guest house,
An open-concept livingroom/kitchen,
Two bedrooms for kids with a shared bathroom between them,
An office.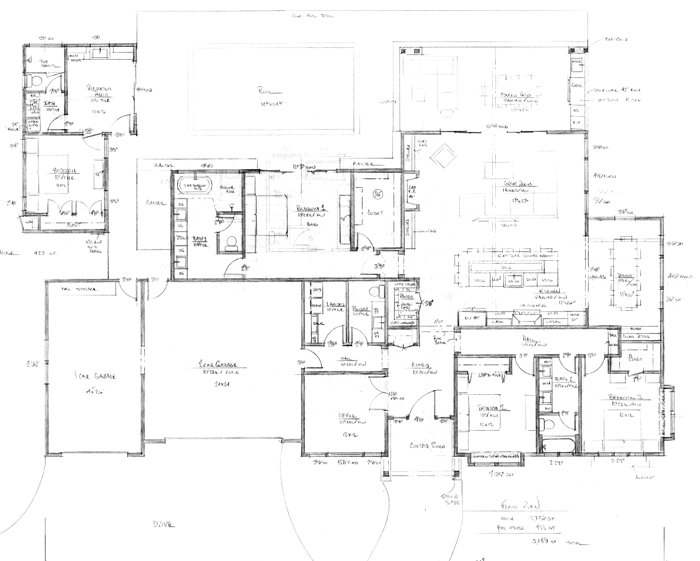 I'm not going to go too far into this part of the planning because we hit a few serious snags:
Our vendor didn't consider the topography or land layout while designing the house. When we went to put the plans on the land, they were much too square and wouldn't fit between the driveway and the property line. At all. This would've required a complete overhaul of the plans, at a cost to us.
This is also when we discovered that our vendor isn't an architect, but a designer. These are fundamentally different and we were looking for an architect both in practice and in name. Wish someone had said something sooner.
We were going to dismiss him when we found out that an architect we had worked with on another project was available and in our area, so we ended up going with him instead. His total contract cost is going to be almost four times as much but he's going to be with us for the duration of the project.
In the next segment we'll pick up with the new designs and approaches as we move closer to submitting what we've got to the county.